Sending out Greeting cards during the holiday season is a great way to thank your loyal clients for their custom and make them feel special. Receiving the envelope in their [physical] mailbox and then displaying in their home, office or store during the Christmas period – it is a branding exercise you should not ignore!
In this article we'll walk you through how to use this traditional method of communication to build brand loyalty and discuss a few different ways you can get them out to your audience.
SEND A BRANDED CHRISTMAS CARD IN THE MAIL
If your business is service-based, your best option for sending out Christmas Cards is the traditional method – via the postman! This may be the one time of year that your clients will receive a physical piece of marketing from you, so it's important to make the most of it!
Take the opportunity to show the faces behind your business by customizing a design with a team photo. Particularly if your business does not get on camera often on social media, this is an easy way to get personal! Along with the image, you can add each team members name as a sign off message, add your logo to the card, and complete it with your corporate colors. Optionally, you could add all your office contact and social details to the back side of the Christmas card design too.
Printing the cards in a bulk order will mean you simply have to add the recipients names to the card and address the envelopes – and send out in one batch with the postie!
ADD A BRANDED CHRISTMAS CARD TO EACH DELIVERY WITH A HAND-WRITTEN NOTE
Many e-commerce brands humanise the unboxing experience for their clients with the inclusion of hand-written notes or cards throughout the year. The holiday period is a great time to swap this out for a seasonal variation of the printed card, but retaining the personalized messaging per delivery.
For this method, you may choose to customize the outer sides of your Christmas card with brand (or personal) imagery, and leave the inside blank, so your team can have ample space for writing a thank you message that is applicable to the order. Place it inside with your packaged order and it'll extend the unboxing experience and no doubt add a smile to the recipients face!
USE YOUR CHRISTMAS CARDS TO EXTEND A GIFT TO YOUR CLIENTS
When sending out cards to your clients, you can extend their usage to include a loyalty discount for their next purchase, or a dollar value voucher. By creating a coupon code used within this campaign exclusively, you can easily track it's effectiveness against other campaign methods. If designing your card in Easil, you can add this component to the inside of your card and have it printed on each card, or you could choose to handwrite the code so it can feel more exclusive.
HOW TO CUSTOMIZE YOUR BRAND CHRISTMAS CARDS IN EASIL
Select your Christmas Greeting Card Template
Select from a range of exclusive templates created by Easil's design team. Available in both Portrait and Landscape formats, and Metric and Imperial sizes.
Upload your own Team or Family Photo
Many of our pre-designed Christmas Cards contain image placeholders. Upload your own image, and drag to replace our photo in a snap!
Change the card Colors to suit your Brand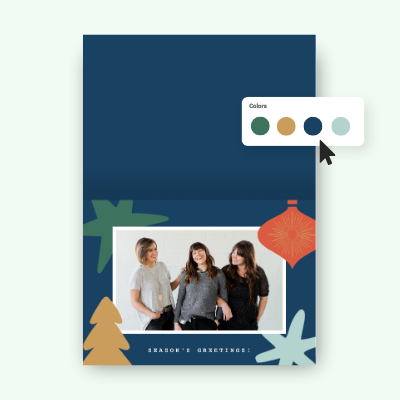 Our Christmas Cards are fully customizable using our built-in editing tools. Update the background color, graphic elements, or even the layout.
Personalize the Message and add your Logo
To complete your design, you may want to upload your brand logo to the inside. Optionally update the placeholder message, and the 'from' message.
ORDERING YOUR PRINTED CARDS FOR DELIVERY
Printed cards are available to be delivered throughout the United States, and Australia from our Easil print facilities. To order your cards:
When you have completed your design, click on 'Order Prints' at the top right of the editing screen.
On the order form, click on 'Select your Print Options'.
Use the Material drop down to make your selection of Card Packs.
Click on 'Continue to Billing'.
Complete your Delivery details and payment.
Our Print Department will check over your artwork and be in contact if they find any concerns.
Your cards will be delivered to your door within 5-7 working days.*

*Courier/delivery timeframes estimated at 3-4 days.
Our customer service and Graphic Design team are also here to assist! If you need a hand with creating the perfect corporate Christmas Card, please send us a message on social, or via email info@easil.com